Diagnostic Testing
When considering NAION as a diagnosis, a meticulous medical and social history is needed in addition to a thorough eye examination. Questioning pertaining to sleep apnea, giant cell arteritis (GCA), and erectile dysfunction drugs is warranted.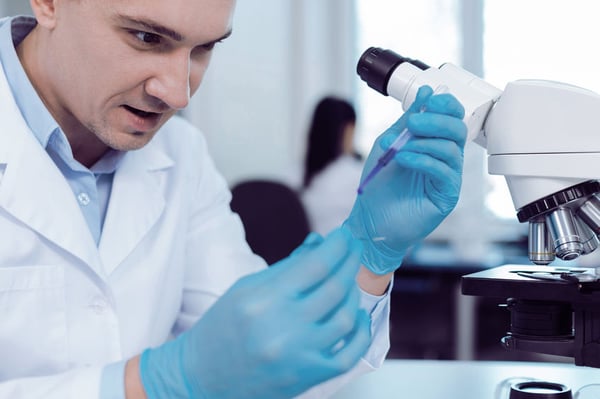 Although NAION may present with findings similar to that of GCA, a classic presentation of NAION without GCA signs or symptoms may not warrant the usual GCA testing of a complete blood count (CBC), erythrocyte sedimentation rate (ESR), and C-reactive protein (CRP). However, if there is any doubt then CBC, ESR, and CRP testing is indicated to rule out GCA. Patients should always be evaluated by a primary-care physician for potential modifiable or treatable risk factors including smoking, sleep apnea, hypertension, diabetes, hyperlipidemia, and other vascular disorders. Neuroimaging is only performed in cases diverging from a typical NAION course such as prolonged optic disc edema, progressing vision loss, or unusual pain. Except in cases of family history or personal clinical evidence, there is no proven value of additional vasculopathic or prothrombotic diagnostic testing (ex. carotid studies, hypercoagulability testing), however homocysteine levels may be tested in patients under the age of 50. Patients with significant hyperhomocysteinemia may be recommended supplementation of vitamins B6, B12, and folic acid and regular monitoring for systemic vasculopathies.
Differential Diagnosis
Differential diagnoses for NAION primarily include other anterior optic neuropathies or orbital lesions. Differentials include:
Anterior optic neuritis

Demyelinating
Sarcoidosis
Idiopathic
Other

Infiltrative optic neuropathy

Leukemia
Lymphoma
Sarcoidosis
Other

Orbital lesion causing anterior compressive optic neuropathy
NAION vs Optic Neuritis
Optic neuritis may closely resemble NAION in regards to vision loss, visual field defects, optic disc appearance, and symptom onset; however key differences include age, pain with eye movement, and type of disc edema. Optic neuritis patients are generally younger, report pain with eye movement, and have diffuse disc edema without hemorrhages. Optic neuritis patients may also have retrobulbar optic nerve swelling in which case the optic nerve head appears normal. NAION disc edema is more likely to be altitudinal or segmental in nature and have disc pallor, vessel attenuation, and hemorrhages. Orbital lesions may result in compressive optic neuropathy and present as unilateral optic nerve head edema with slow, but progressive vision loss. However, orbital lesions also may cause lid proptosis, eye movement abnormalities, lid abnormalities, and non-resolving optic disc swelling. Infiltrative optic neuropathies, similarly, may demonstrate persistent optic disc edema and cause slowly progressing vision loss.

Arteritic IONs
Many vasculopathies may trigger anterior or posterior ischemic optic neuropathy, the most common of which being giant-cell arteritis (GCA). Anterior ischemic optic neuropathy due to GCA is called arteritic anterior ischemic optic neuropathy (AAION). GCA has an annual incidence of 18 people per 100,000 in persons over the age of 50. Serious vision loss occurs in approximately 20% of these cases. The most frequent ocular manifestation of GCA is AION however both AION and PION may produce calamitous vision loss and therefore should be treated as an emergency. Although the clinical presentation of GCA and NAION are similar, systemic symptoms of GCA may be differentiating factors. Systemic symptoms of scalp tenderness, severe head pain, jaw pain, and general malaise oftentimes precede vision loss by weeks to months. Vision loss is also generally preceded by visual symptoms of transient blurriness or diplopia. However, known as occult GCA, one quarter of GCA patients present with isolated ischemic optic neuropathy and no systemic symptoms.
AAION induced vision loss is typically more serious than NAION with over half of AAION patients being unable to count fingers as compared to approximately a quarter of patients with NAION. AAION is considered an ocular emergency because untreated AAION involves the fellow eye in well over 50% of cases within days to week.
Optic nerve pallor is a differentiating factor between AAION and NAION as the affected optic nerve often presents immediately with pallor in AAION while pallor is delayed in NAION. While a "disc at risk" is suggestive of NAION, AAION may occur with any cup-to-disc ratio. Additionally, unlike NAION, GCA may also cause ischemia of the retina or choroid.
Erythrocyte sedimentation rate (ESR), C-reactive protein level (CRP), and complete blood count (CBC) should be performed on any patient over the age of 50 with ION who are being considered for GCA because contralateral vision loss is rapid and common. The results of the combination of these diagnostic tests is highly predictive for GCA (sensitivity of 97%). When these tests confirm GCA, the treatment generally entails high doses of intravenous steroids.

Perioperative ION
Various non-ophthalmic surgeries may cause severe bilateral vision loss by inducing anterior and posterior ION. Coronary artery bypass grafting and prolonged spinal-fusion surgery are the two surgeries most likely to provoke ION. However, it is worth noting that the reported incidence of this complication is less than 0.3%. For reasons that are unclear and likely multifactorial, cardiac surgery is more associated with AION while spinal surgery is more associated with PION. While the mechanism(s) are poorly understood, ultimately, axonal injury arises from either a vascular or compressive source.
Potential pathways for axonal damage include:
Decreased perfusion pressure
Reduced oxygen delivery
Elevated venous pressure
Direct compressive axonal injury
Proposed mechanisms contributing to these pathways include:
Tissue hypoxia
Anemia
Blood loss
Hypotension
Increased interstitial fluid in the optic nerve
Increased interstitial fluid in the orbit
Vasoconstricting agents used preoperatively or postoperatively
Increased intraocular pressure (only anterior ION)
Predisposing vascular or thrombotic risk factors
Anatomical or physiological predisposing factors (ex. small cup-to-disc ratio or vascular watershed regions in the posterior optic nerve)
Risk factors for development of ION in patients undergoing spinal-fusion surgery in a prone position include:
Male
Obesity
Total time under anesthesia
Total blood loss
NAION and Medications
Certain medications have been linked with NAION development to treat malignant tumors (ex. melanomas, leukemia, and lymphomas) and chronic hepatitis C, has been associated with bilateral, sequential NAION. The severity and prognosis vary, but some patients demonstrate recovery after discontinuing such medications. Potential mechanisms include systemic hypotension or deposition of immune complexes within the optic disc vasculature.
Three drugs prescribed to treat erectile dysfunction (ED) have been temporally associated with NAION onset, likely by producing systemic hypotension. Therapeutic doses of these ED medications may decrease systemic blood pressure over 10 mmHg. Each reported case connecting these medications with NAION occured in patients with "discs-at-risk". The combination of these structurally crowded discs with augmented nocturnal hypotension is believed to have triggered an ischemic event. Despite the fact that the number of cases connecting NAION with ED drugs is modest, male NAION patients should be asked about ED medication usage. It is also pragmatic for patients being administered ED drugs to have a complete eye examination to assess for structural crowding of the optic discs.
Commonly used medicine to treat cardiac arrhythmias has been linked with an anterior optic neuropathy resembling NAION. It is worthwhile to mention that patients using this drugs generally already have vasculopathic risk factors predisposing them to NAION development. Several studies have revealed that NAION typically involves cases that are bilateral, have an insidious onset, involve general visual field loss (rather than altitudinal), and which have optic nerve edema persisting for months (rather than weeks).